Sheila P From British Columbia Writes
"What fun we had….cleaning the hangar this weekend. But really, the product was a resounding success. We had two pilots stop by to ask us how we had such a startling result and they both noted the product, so expect strong sales in the next little while, Boundary Bay airstrip is abuzz.
Honestly it blew our socks off".
Ian Robertson From British Columbia Writes
I have recently used 30 Seconds on two vinyl decks. In the 1st instance the deck was a 15 year old vinyl Duradeck surface at our cabin on the Gulf Islands. Each year I would clean it 3x using Shell Bussey cleaner, scrub brush and 'grandma's' ancient floor polisher. As it aged it showed more and more black marks which would not go away. About four years ago I used a special cleaner marketed by the manufacturer – no great improvement. Two years ago, as a result of an internet suggestion, we tried powdered dishwasher detergent. It worked partly – but left spots some clean, some still dirty. This spring I bought a hand sprayer and a container of 30 Seconds. True to the instructions, after spraying the wet deck, waiting 5 minutes, then gently scrubbing with a brush, and – PRESTO – a new deck with NO black marks!!! It took the surface back to the colour that it was when new! Very impressive!!!!
Next I approached my son in law in Victoria whose vinyl deck was old, blackened, and had been painted at some point in the past. He was reluctant to let my try so we agreed to do a small test section. It came clean with no damage to the paint. So on to the rest of the deck with another gallon of 30 Seconds. All of the deck cleaned up and shone! The paint didn't lift but cleaned up quite well. Another convert to 30 Seconds!!!
This is truly a great product.
Trevor Andrews From Ontario Writes
Great product. I live in Ontario and I have a composite deck. The cleaner I usually buy to clean my deck every year is not for sale in Canada anymore so a friend of mine from BC told me about your product. I was skeptical because I have tried many products and i only found the one manufactured in the states was the only product that lived up to what they claimed.
Your product was very easy. No mixing of products just spray and wait for the results then hose off. Very impressed it cleaned just as good or better than the old product I used and it is manufactured and sold in Canada.
Thanks again and I will be buying your product from now on.
Bob S. From Nova Scotia Writes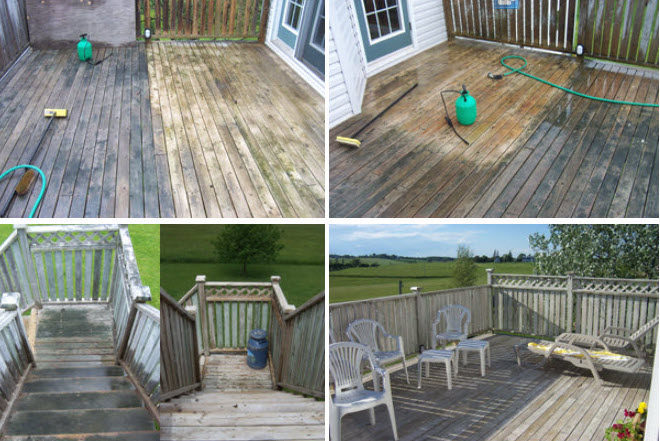 "I have attached a few photos of my own deck that I used 30 seconds on. As you can see it was in bad shape and took very little work to bring it back to like new condition. I did the deck again last year after two years and again achieved great results with even less work, the deck stayed very good but I just wanted to keep it from getting to the total black condition it was in. We blew up and laminated a couple of these photos and hung them off our end aisle displays of the product in our store during the spring and summer seasons.
I have been very impressed by your product, and one of the things I like most is the fact that it doesn't bother plants, grass or pets, in fact I have a flower garden directly beneath my deck and had no problem! I have not tried it on my roof yet for moss, but I do have some (Moss) and may give that a try this year.
Thanks for the sprayer I will put it to good use on my Daughter's deck on the house she bought, it's lovely and black, I 'm sure I'll impress the neighbors' with this one!"
Bernie From British Columbia Writes
Here is a photo of my gutters that haven't been cleaned in six years! I sprayed on the 30 second cleaner and watched the black and green algae melt away. After letting the product sit on my gutters for about a minute or so I fired up the pressure washer and blasted the stuff away.
I can't believe how great this product worked and how clean my gutters are. Thanks!!
Daryl Shortt From Nanaimo, British Columbia Writes
"Would never have believed the results of 30 Seconds on our vinyl deck. I am now a believer. Way easier on the back than hours with a pressure washer on a deck of this size, and with much better end results.
Simply amazing".
I have a 12 x 40 foot park model trailer with vinyl siding. Each year is a major job to clean with cleanser and a scrub brush. This time I saw an ad for your product and thought I would give it a try. Got the whole thing cleaned in an afternoon with just a little scrubbing. All done and looks like brand new. Proudly showing my neighbours. I am so excited to have this big job done in no time and will use your product again. Excellent cleaner. Thanks!
I was about to renew all of my eves troughs because they had so much mildew and were very ugly. Heard about your product "30 seconds" on TV, I believe, and I am in awe at how it worked. Excellent, Excellent and so very easy Thank You.
This product delivered! My canopy consists of two sunbrella sheets of size 5' x 12' that had been hanging for 6 summers. Used Shout with Tide in front loading machine – no luck. Also tried a second time with Mr. Clean – still stained! Sprayed with 30secondscleaner, let set 15 minutes and laundered with cold water – voila, it came out clean! So glad to have found this product.
We live in a 9 floor condominium that backs onto a 10,000 acre conservation area. We get the benefit of all the algae and stuff from all the trees. The first 6 pics show a first wash and then a second wash with a very light brushing. Given experience, one going over would probably do. The last 2 pics are what we are up against on the back half of our building. The pictures speak for themselves, and the difference is day and night and so easy that I should have filmed it better and posted it on Youtube.

Allen Rams
Chairman, Harmony Corporation
I live in a mobile home with vinyl siding. Over the past few years it has a bad coat of algae, dirt and grime. I bought 30 Seconds after seeing an ad for it. I was amazed, it was so easy to use and cleaned so quickly without much effort. I have cleaned half of my home and I am going out tomorrow to buy some more and finish cleaning my home. Many thanks for a great product! I am now a confirmed user of 30 Seconds
I will never power wash again! This stuff is amazing!